[updated July 6, 2019]
Expanding on what I wrote in Rootstalk
What follows is another reading of the story with a somewhat more nuanced view of my transition from Drake student journalist to musician and student of the blues. 1968-70.
I first met and played with Ronnie in the winter of 1969 at Drake University. His band at the time was called The American Legend and with their American flag costumes and literal wall of Sunn® amps they were easily the most visually impressive Iowa band I'd ever seen.
Now, we thought we Des Moines guys were pretty bad ass (and when it came to R&B, jazz etc. that was true) but when this Cedar Rapids band kicked into Deep Purple's Hard Road, perceptions became, well, different.
Dewitte and the band had the sound, temperament, spirit and ego to speak to us through American Blues which at that time was being reflected back to us by the British blues rockers like early Fleetwood Mac, Jeff Beck, Yardbirds and of course Richie Blackmore and Deep Purple. Dewitte's devotion to the African American roots of the blues was filtered through the sound of a Sunn Coliseum and a Gibson 345 stereo guitar. I really can't describe it so….
..take a listen to our blues.
Wheatstraw demo with Ron Dewitte, guitar David Bernstein, drums, Craig Horner, organ. Dartanyan, bass. 1970 recording at KCRG-TV studios Cedar Rapids
After the American Legend Show at Drake that night, friends John Rowat, GT Clinton, Frank Tribble, and Mike Schomers invited Ron, organist Craig Horner and drummer David Bernstein over to our band house a block from campus. What followed were blues, rock and jazz players from Eastern and Central Iowa jamming until the wee hours of the morning. For the next 40+ years, the guys in that room would continue to make great Iowa music in one incarnation or another. (Photography by William Plymat)
Considering the chaos of the Viet Nam-era 60's and my personal turmoil, being in this band was a lifesaving proposition. Greenwood Park was our local Woodstock and to go from journalism nerd to was a 'soft landing' into a new phase of life.
As an educator, as an artist, as a fellow guitarist and seeker of string wisdom, I can say that God smiled upon me by introducing me to Ron Dewitte. His world view and orientation were much different than mine but his humanity was immense. He understood intuitively, the connections that nurture us. How life gives us all a set of challenges and how cultural perspective informs our response to those challenges.
In 1970, I was an nerdy black intellectual reclaiming a part of his core musical identity and Ron was a skinny white kid with a old black man's touch on the blues guitar. We had an affinity which gave us a tremendous sense of perspective on what the hell was going on in life around us.
Willie's song "On the Road Again" says it short and succinct:
On the road again

Like a band of gypsies we go down the highway

We're the best of friends

Insisting that the world keep turning our way
That was our weird and crazy life in 1970-1972. Four blues/rock/jazz crazed musicians convinced that we were going to save the world with BB King and Deep Purple's music. With Max Wilkenning from Sigourney as our bus driver and father confessor (or pimp depending on who was in the audience on any given night), we were our own Iowa Magical Mystery Tour.
Until the dream eventually died….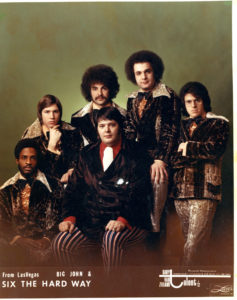 Being a world changing Blues-Rock band is hard when the people you play for want to hear "Take a Letter Maria" or "Color My World" (although the changes to CMW are nice to solo over if nobody in the audience is listening anyway..) Eventually we ran out of Wisconsin 3.2 beer bars to play in late 1971 and needing income…….Enter Big John and Six The Hard Way….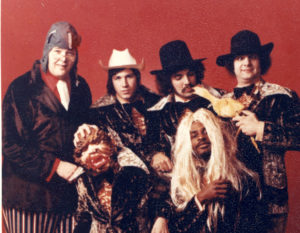 Joining Big John and 6 The Hard Way (billed as "from Las Vegas" but curiously, we never played there) was a desperation move but one that allowed Ron, Craig and I to still play together, earn regular paychecks for awhile and plot a new path to world musical domination. (David Bernstein, our Wheatstraw drummer found a path to some fame joining Crabby Appleton, an obscure but cool band on Elektra Records.)
Of course, our "plan" actually led us further away from our goals and eventually we returned to Iowa to pursue things like keeping our families from prosecuting us for abandonment or, in my case, returning to college in 1972 before beginning another chapter with Bill Chase…but that's another story altogether. (Ron has this Bob Weir baby-face thing happening in the pictures above. Yes, that's me with a blond wig…doing Tina Turner impressions…hey! it was a show band. )
Wheatstraw lasted about 17 months but in that time we played, lived, loved, traveled, argued, suffered, laughed, got low and got high and bonded for life. We went our separate ways after 1972 but for me the pilot light never went out on my desire to champion the Iowa scene we had and the music we made (and the artistry of one Ron Dewitte.) I didn't realize that it would be 35 years later in completing the circle, rekindling the fire and doing my duty to let the world know of what our Iowa upbringing produced.
Ron, Craig and I remained close and in 2005 a dream opportunity to "get the old band back together" surfaced:
I was on the faculty at Marin Academy, a small college prep school in San Rafael. Expensive, exclusive, extraordinary and Des Moines native Bob Schleeter directed the music program there. As part of the school's commitment to the arts and education, they invited me to bring Ron, vocalist and Blues Hall of Famer the late Mike Edwards, Craig Horner (now a financial planner in SoCal) and my son the drummer Jaimeo Brown together to play a concert for our annual Conference on Democracy.
Marin County is the land of Santana, The Grateful Dead, the Sons, Huey Lewis and the News and many more but bringing the Iowa boys out to show 'em how we roll was one of the proudest moments of my 29 years in the San Francisco Bay Area.
Recognition of Ron Dewitte's contributions to the culture of Iowa blues will only increase over time. Either you can hit the note or you can't. If you can't feel it, you can't fake it. Ron Dewitte was no fake. He was a constant friend, collaborator and companion in mordant chuckles about the way life always seemed to give us just a bit more than we could handle comfortably. He was a patient teacher, a consummate performer who could become almost anonymous as a backing musician but completely own the stage when it came to tell the truth as a soloist.
The last performance I produced with Dewitte, Sam Salomone and Steve Hayes with Lynn Rothrock singing was in 2008 at the Liar's Theatre in Marion Iowa. Between us there were probably near 200 years of musical performance. While not a firebreather, this performance was more like driving Ron's Cadillac around town. Powerful but wrapped in comfy leather with the climate control set perfectly. With Dewitte on guitar and vocals, Sam pumping the organ, and 'The Chief' (Hayes) stoking the beat like a fireman shoveling coal into the firebox of an old locomotive.
Ron Dewitte, was a two-time inductee into Iowa's Rock 'n Roll and Blues Halls of Fame freed from Earth Friday to join the angels in God's Blues band February 2018.
The late Mike Edwards was inducted into the Iowa Blues Hall of Fame in 2012. He passed away in 2015. David Bernstein passed away in 2018
Hear a track from the 2008 Marion show featured in the previous post.