Well, wouldn't you know it. The Community Jazz Center (CJC) and the Central Iowa Blues Society (CIBS) which I am honored to be a member of, decided to have their celebrations on the same day here in Des Moines. SO….What to do?
Both, of course. The CIBS event held at Des Moines Social Club began earlier so I did stop down and see Bob Pace's smokin' set before heading down to Noce to witness the newest inductees into the CJC Jazz Hall of Fame.
Old friend Nancy Bierma (accompanied by husband Jim and a pretty big family contingent)
was honored along with Dan Hartzer, Phyllis Leverton (congratulations and heartfelt thanks to her for years of commitment to the music here in Des Moines), and Bryan Schumacker. The Next Generation award went to Robert Espe and young bassist Sophie Roberts was honored with the Bobby Dawson Youth Award.
Des Moines' newest and classiest jazz venue, Noce, hosted the event and was honored with a Certificate of Recognition for their efforts.
Scott Smith (piano), Jim Ecklov (drums), Julius Brooks (saxophonist who turned 90! this week) and Jim Bierma (bass) were
the house band for the CJC event.
It was obvious that the CJC community is alive and well (and looking for new members!!) Big congrats and heartfelt thanks to Abe Goldstien, John Krantz, Phyllis Leverton, Dwight Deason and all CJC board members, contributors and community who do a great job of introducing young people to the joy of making your own music.
When we were introducing jazz education to schools in the 70's through the Iowa Arts Council, working with Willie Thomas (CJC's founder) was always a joy. Willie, Preston Love Buddy Baker, Larry Ridley, Rich Matteson, Art Taylor, Jamey Aebersold, the great David Baker, all a part of a coalition of musician/educators dedicated to bringing fresh language and ideas to the world. I left Iowa in 1980 to begin working with the National Endowment for the Arts "Artist in Schools Program" (AIS). In the years since then, nearly every school in America now has a jazz band. All of us who love this music should be very proud of what jazz  has done to transform music education.
….now if we can just find some gigs!
==============================================================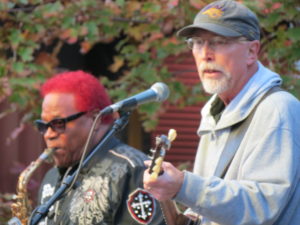 Now, I won't say that Blues people have more fun than Jazz people but, damn, the CIBS 25th Anniversay Party, held at Des Moines Social Club, was more than fun; it was a celebration of the blues. An all-day affair, I didn't get to see all of it, but listening to Saxman Del Jones rip it up sitting in with Bob Dorr, and the Blue Band with Tom Giblin on keys was like blasting down the highway in Del's Corvette!
Featured acts during the day were the Bob Pace band, The Soul Searchers, JC Anderson Band and Malcom Wells and the Two-timers.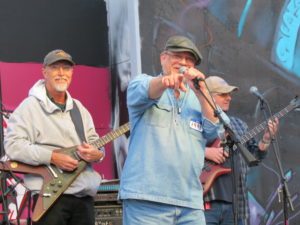 Since my induction into the CIBS Hall of Fame in 2003,  I'm more proud of my association with them then ever. Fine people with a great mission (just like CJC). I look forward to the days ahead bringing more young people into the world of jazz, blues, Rock 'n Roll and every other form of American music. This was a great way to spend a Sunday afternoon.
Spotted in the blues crowd was Victor Gomez, guitarist whose star is rising on the local blues scene. Too bad he didn't play yesterday, but look out for Victor when we'll be playing at Lefty's for the 2nd Annual So's Your Mother's Reunion gig November 22nd. We headline a bill that includes Pat Hazell and Bob Dorr so bring dancing shoes and earplugs.
It would be nice to see more young people at both of these events but the ones who were there are dedicated and definitely still having fun doing it. What more can we ask?
Updates to come…