By Dartanyan Brown
[Updated Friday December 24, 2022 from San Anselmo, CA]
Sam and I were were the first, and thus far only two musicians to be included in the Rock 'n Roll, Blues, and Jazz Halls of Fame in our native Iowa. There are a few other musicians of our era who were triple-threats (Lynn Willard from Marshalltown who played blues with the Pete Klint Quintet of 1966-7, free jazz with Iowa City ensemble Tree in the 70's, and intergalactic progressive rock with The Source band from Des Moines and Iowa City in the 80's comes to mind) but today, this post is for Sam.
While I was trying understand the basics, Sam was already well known for his talent and was always looking to embrace the best of the Rock and Black music scene. The jazz-fusion era beginning in 1968-69 brought us together in mutual search for new musical adventures.
In this world, if we are lucky, we find someone of like mind and sufficient humanity to form a union of equals. I was lucky to work and play with Sam Anthony Salomone during one of the most creative periods in the post 'bop era. Likewise Sam was lucky to work with me. Let me explain:
Sam and I were like a two-way portal where I could connect with his knowledge and he could cross over into the world of contemporary blues, rock or R&B Jazz hybrids. There was a period when jazz players like Sam viewed the British Invasion as a near-blasphemy in the high church of bebop. It was true that the improv chops of young rockers was nowhere near that of almost any studious jazz player but we had the ear of our generation who were listening to John Sebastian not John Coltrane. I was lucky to have affinity for music across generations so I was alternately experimenting with acoustic folk music as well as electric blues (emulating BB and Albert King, Paul Butterfield) and Jazz via The Jazz Crusaders among many others. The period (1949 through 1990) saw the consolidation of bebop fused with our generations' affection for the Blues, R&B and funk. A cultural evolution that created a brew so intoxicating and inclusive that musicians, regardless of style were drawn to it like moths to a porchlight on a hot summer night.
While Sam and I realized our musical paths were not exactly the same they were certainly complimentary in a lot of ways. We were both had deep reverence for the music of my fathers era; Bebop, was and arguably still is the highest form of musical artistry. Originating in the experience of Africans in America, Sam was a total devoteé of Black music from Street corner Doo Wop singing to Little Richard to Professor Long Hair to John Coltrane to The Neville Bros. Sam and I played together in various bands beginning in 1967 until our last performance in Marion, Iowa in 2008. Below is a link to one of the songs from that last show.
Sam Salomone was a special human being who was dedicated to making the right musical decisions every time he sat down to play the Hammond B3, the electric piano, the synthesizer or his (always quirky) vocals.
Listen to Sam, guitarist Ron Dewitte, drummer Steve Hays and producer, bassist and vocalist Dartanyan Brown playing Mose Allison's Everybody's Cryin' Mercy]
Here's another gallery of shots from the Marion gig
=====================
We played in Des Moines but we also went on the road to gigs to Pennsylvania and Canada. Ours was largely a story of music BEFORE the onslaught of computer-aided music beginning in the mid-80's. We were children of the bebop era. My father, pianist, songwriter, and teacher Ellsworth Brown along with pianist, teacher Ernest (Speck) Redd, bassists Rufus Spates and Francis Bates, the drummer Bobby Parker, guitarist Charles Gator, and bassist Clarence King were the cats on the scene in 1949 until the mid-late 1960's. Beginning in 1965, our generation of blues, and Beatles-influenced musicians began to make joyful noise.
In 1966, I was just starting to play bass (thanks to prodding from my friend George "GT" Clinton. His band "The Upsetters" with Jimmy Brown on drums, Wally Ackerson on bass and guitarist Bernie Fogle were amazing ) GT took me to the First Unitarian Church in 1966 to attend the Des Moines Jazz Festival featuring the Darling brothers bass/piano duo along with The Sam Anthony Trio with Archer, and drummer Bobby Jackson. Bobby's sister, the late Joanne Jackson was the featured vocalist at the festival.
After that festival I was hooked but being underage, I would have to sneak into bars in the Savery Hotel and other places where Sam and Don would be playing so I could hear the real thing close up. I heard classical and jazz music from my earliest recollections but I also embraced the music from my own generation. Folk music, Junior Walker and the All-Stars and blues music especially Albert King were my first attractions.
As a Visiting Professor of music and journalism at Drake University for the 2022-23 academic year, thinking about how we met and literally fused 3 generations of creative music together merits discussion on musicology, cultural roots, cross-cultural influences and more.
[Big thanks to Don "T-Bone" Erickson for sending me a link to Kyle Munson's substack-based tribute to Sam]
I am sad that Sam is gone from us physically but his spirit and ever-present quest for the right note will live on in all musicians who strive.
Leave a comment below and come back. I'll be adding to this story in the days to come with the most important element of all: archival recordings of our work from 1976-84.
Respect forever to Sam and his lovely Linda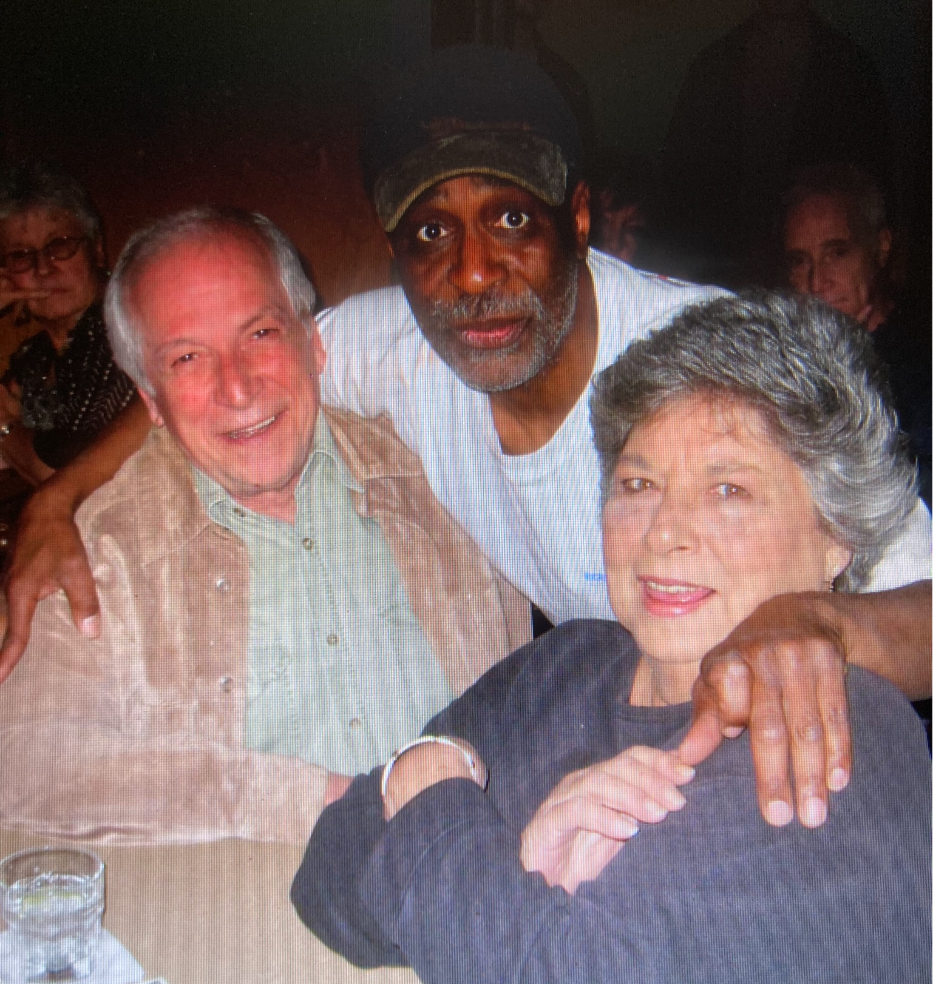 (thanks to vividpix.com and Scott Allen for one of the gallery images)