Glad you came to visit from dartanyan.com.  I was inspired early in my career by local Des Moines musicians who were great players and also humanists who imparted a sense of the cultural responsibility inherent in being a musician and artist. They may not have said  it in so many words, but the way they went about learning, performing, listening, analyzing, transcription and memorization of the music spoke emphatically of their commitment and its deep rewards. I learned that first and foremost from my father Ellsworth Brown.
There are pungent memories of him playing piano and saxophone. He also embraced singing and drumming. Being a radio officer in the Merchant Marine, he loved electronics with radios bringing in music from around the world. This was between 1951-58 when we lived on Walker Street on the swingin' East side of Des Moines. Ernest Redd and his family lived a few blocks down the street and either his house or ours was the scene of many a session and discussion about issues of correct elements of Charlie Parker's and Dizzy Gillespie's bebop revolution.
In my own revolutionary years 1964-70 (encompassing middle-, high school and 3 years of college) I transformed from a spectator to a player.
I credit Marlowe and Fran Cowan and  as being  primary musical inspirations in my early life. The Cowans directed the YMCA Boys Chorus and Bellringers. Marlowe was a phenomonal pianist in the ragtime tradition and could rock a piano as hard as anyone I knew. As a 13-year-old I also looked up to him as a mentor of sorts and his personal example still serves as a guide to me today as I work with young people.
George T. Clinton, introduced me to the idea of self-created Rock 'n' Roll and Jazz as something I could do too.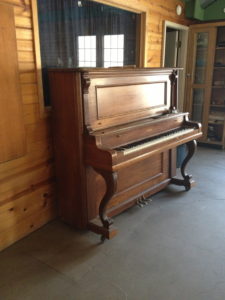 George Clinton and I were both "junior leaders" at the YMCA camp also directed by Marlowe and Fran Cowan. It was there in 1965 where we first played blues together on the old camp piano.  I played bass on the left end of the piano and GT went nuts on the chords and melody on top. He was already a ridiculous pianist having absorbed  gospel, blues and jazz in his studies with Ernest Redd. I went home to the basement and started learning to play the blues on a (bad) upright bass.
I was mildly affected by the Beatles at first (Junior Walker and the All-Stars were much more my favorite) but the Beatles and Jimi Hendrix's Are You Experienced album changed his life. By 1967 GT had played in two HOT! rock bands of the day. The Upsetters featuring Jimmy Brown on drums and GT's own group Captain Beefheart and the Shipwrecks. Both of these bands perfectly captured the newly-minted frenzy that was British Invasion and Blues revival all at the same time. You.had.to.be.there!!
When we weren't out at The Clique or The Place or The Know Where teen dance palaces of the 60's in Des Moines, GT would kidnap me from home and we would go to the First Unitarian Church to catch the Des Moines Jazz Festival to see Speck Redd and his trio, or The Darling Brothers bass/piano duo, or JoAnn Jackson completely killing it, singing Ella as good as Ella.
Then we ventured into the world of Des Moines' African American clubs and after-hours joints where you'd hear and see some of the craziest doings imaginable (well, for a 17-year-old they were..) Sam Salomone on Hammond organ with Don Archer on guitar is what we were there to hear. I had no idea this kind of music was being played in town but GT did and we'd go into the clubs near downtown where Sam was playing and do our best to act like we were old enough to be in these places.
Once I heard Sam and Don with Bobby Jackson (Joanne's brother) on drums there was no way you were going to get me OUT of the club. It was a revelation and a homecoming of sorts because my father had been playing this kind of music since I was born.  While I have always been a bopper by culture, I've also a deep love of simpler folk music forms both harmonic and rhythmic. So in 1967 when I finally understood enough about myself to know that music was integral to my being, I was thankful to have had GT Clinton, Sam Salomone, Don Archer, the great Ernest (Speck) Redd, Wally Ackerson (RIP) Marlow Cowan, Fran Cowan, Jimmy Brown, John Carlsten (my middle school clarinet teacher who first noted that I was "improvising" my music lesson) Delbert Jones and Frank Perowsky (one of Dad's most successful students)
Now, saving some of the best for last, I credit blues legends Harlan Thomas, Gene Jackson, Rick Lussey and George Davis with giving me one of my first real gigs. Their band was called The Soul Brothers and George's brother was the bass player who was absent for a gig.  I got a phone call and it was Harlan asking me if I would play with the Soul Brothers at the Chesterfield community Center. I still remember it to this day and I'm still grateful that they gave me a chance to earn a place on the bandstand. As I write this post, I am reviewing in my mind,  a  lot of really great times that were unique to the era.
I was privileged to have access to great jazz, blues, R&B, and the best of the British invasion/Blues revival stuff including Paul Butterfield's blues band that would shape the next generation. So as Jazz Appreciation month rolls on, I don't know how much more content I'll get posted but paying respect to the musicians who influenced and inspired me is one bit that I'd better not leave out.
Sincere respect and thanks to all who have inspired me on my journey to inspire others.
Peace, Persist
D