I almost literally owe my life to Jazz and now that  April is here once again I can crow about America's greatest gift to the world of art and music.
Jazz means freedom! Jazz means having some class! Jazz means that you've got something to say–and that you know what you're talking about.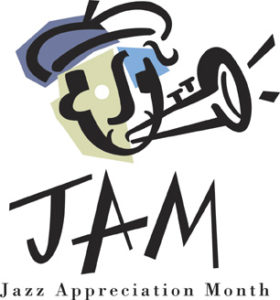 Jazz doesn't suffer fools either! If you don't know the changes, keep your ass off the stage!
Some music is all about gettin' everybody together and havin' a good ol' time singin' and pickin'!  Jazz, on the other hand, is communal but the price of admission are the hard earned lessons taught by life and the music itself. Success for a jazz musician at the dawn of jazz–almost by definition an African-American– was seen as a definite step up the achievement ladder in a world of hard core racism and legalized social barriers. To say that material success for musicians was fleeting was understatement and the competition at all levels from local to national was intense. That intensity however, served as the crucible for new forms of music and performance that rightly earned my father's generation of swingers, boppers and theorists eternal respect.
Jazz means you have to know your role, know the music, know the time, know the style AND know how to forget-it-all-and-just-play…Yeah right, you say?
YEAH,RIGHT!! say the jazz musicians! Those are our standards, those are our rules, those are our constitution and if you think certain politicians are conservative… come on the bandstand and fuck up the changes to "Autumn Leaves" and you'll hear from musicians who don't want their chords messed with. THAT'S conservative.
In the end though, we understand that music is a lot more than the notes, scales, chords or rhythms that comprise the experience. There is no music that will sound good if your mind is not receptive. No music will have an effect without the connective tissue of shared human experience. Like all of our old stories, myths, parables, memories and fairy tales. Music is a vehicle for carrying a lot of what might be called our story into what might be termed the 'future'.
Ok well day 2 of Jazz Appreciation Month almost done. I'll repost interesting jazz related content during the month.
Enjoy some of the real thing [Lonesome Blues] from Louis Armstrong 1925
and some James P. Johnson playing "You've got to be Modernistic" 1930
More later. Happy Jazz Appreciation Month